Jan. 29, 2010 at 12:01am
Background of Issue:
Washington State and Pierce County have long argued as to which entity should be responsible for mental health funding in Pierce County.
It appears that these governmental entities have now come to a dismaying agreement: to shift the responsibility of caring for the mentally ill on cities and try to convince the City of Tacoma impose a tax on Tacoma residents of $4,000,000 a year (from the Tacoma Weekly):
One state legislator has suggested the city of Tacoma consider a tax increase to fund mental health programs.

Washington State Legislature has authorized county governments to impose a sales tax increase of 1/10 of 1 percent to fund mental health services. This does not need to go to voters for approval.

...

State Representative Jeannie Darneille, a Tacoma Democrat who represents the 27th Legislative District, was concerned by Pierce County Council's decision. She is now proposing the city take action if the county will not.

Tacoma City Council members met with Darneille and other legislators in Olympia on Jan. 14, where she discussed her idea.
Analysis:
It is hard to imagine a more detrimental proposal from the legislature. No doubt, Pierce County and the Washington state officials would be thrilled to step by step shift the cost and responsibility of caring for the mentally ill to Tacoma.
The proposal would have numerous negative consequences for Tacoma:
1) Further drive businesses to leave Tacoma for Fife and Pierce County by creating an ever increasing gap between the tax rate of Tacoma and the Pierce County. (The mayor is trying to reduce the incentive for businesses to leave Tacoma)
2) Force Tacomans to pay for the mental health needs of residents in greater Pierce County and the those from rest of the state.
3) Concentrate the mentally ill and drug addicts in Tacoma from the rest of the state:
"Her hope is for the funding to support both mental health and chemical dependency services, Lewis noted. "This is a passion of hers."
4) Threaten the ability of the City of Tacoma to pass much needed levies for Tacoma Schools, Metro Parks and other issues. There is a finite amount that Tacomans are willing to be taxed.
5) Deny Tacomans the right to vote on the tax increase. According to the article, the county provision already part of state law "...does not need to go to voters for approval." A similar provision presumably would be proposed by the legislature from the state.
No doubt legislators from Seattle and other county council around the State of Washington would be gleeful to relieve themselves of their obligation to care for the mentally ill and dump the burden incrementally on Tacoma. Tacomas should oppose this bizarre and likely harmful proposal.
During the last election cycle, much was was said about improving Tacoma's educational system, not making it the dumping group for mentally ill from other government entities.
Meanwhile, flush with state funds and federal funds, Seattle is enhancing their city with streetcars.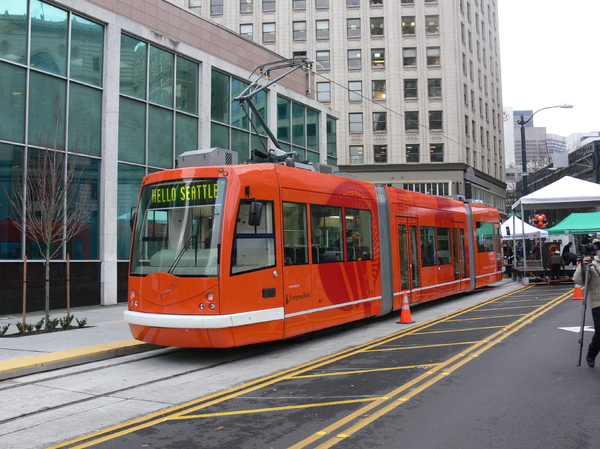 Must be nice.
Reference:
comments [11] | posted under Tacoma
Comments

by NEAL

on 1/28/2010 @ 8:53pm

19 urban counties in this state have this, and they do fund their mental health programs with it.

Even conservative Clark county.

It is time for our county council to step up and do the same. It would protect our communities, and be less expensive the the hodpodge of jail time and court costs.

by Erik

on 1/28/2010 @ 9:09pm

It is time for our county council to step up and do the same. It would protect our communities, and be less expensive the the hodpodge of jail time and court costs.

Good idea NEAL. Having a modest county tax imposed county wide would keep businesses and residents from leaving the city, pull in more money for those in need and not concentrate the mentally ill and drug addicts in Tacoma.

Also, it would keep Tacoma from incrementally taking over mental health obligations from Pierce County and Washington State.

As for Tacoma, I see that the city had a shortfall of $12,000,000 before some cuts were made.

www.thenewstribune.com/news/local/story/...

by Crenshaw Sepulveda

on 1/28/2010 @ 9:37pm

For a moment I thought this was another of fredo's postings. It looks like Seattle has proven if you get rid of all your homeless and mentally ill you'll get a fancy street car system.

On a semi related topic, I'm hearing that Metro is having problems convincing people to ride the Link to the airport. So much so that they are planning to eliminate all regular bus service to the airport to force people to ride the Link. This may end up putting a lot of people out but they really need to get some butts into those empty Link seats. Some of the reasons people seem not to be using the Link is that it is slower than the bus and when you get off the train there is a very long walk to the terminal. Pretty smart, those people in Seattle. Now if they only had it go all the way to Tacoma we could have seen some serious Link usage, and possibly our mentally ill and homeless could find their way to Seattle. If the bLink is any indicator, the homeless and mentally ill love riding the rails.

by NineInchNachos

on 1/29/2010 @ 8:08am

hmmm. looking for the right angle for a Tacomic on this issue...

by Jesse

on 1/29/2010 @ 8:13am

Why does all the trash come to Tacoma? Why not Puyallup? Hey, it's full of religious conservatives who, I'm sure, would be more than happy to help out the drug addicts, right?

by Altered Chords

on 1/29/2010 @ 8:30am

This plan is just insane! Whoever decided Tacoma should bear the financial burden should have their head examined!

by NEAL

on 1/29/2010 @ 8:42am

Well, then we need to contact the county council and say we want safe communities and we need to invest money into these services to save money for our police and sheriff offices and courts.

by Mofo from the Hood

on 1/29/2010 @ 9:29am

This is a proposal to create new government jobs.

It's a logical complement to the Department of Correction services and its related infrastructure.

Exploit the ignorant, the rebellious, the mentally deficient.

When you look to the source of these ideas, keep in mind to not confuse people's titles with what they actually do.

by amsierra

on 2/1/2010 @ 1:41am

This is Pierce Co.'s effort to balance their budget and the State's effort to further dismantle the mental health system. Locke sent in his hatchet men and now Gregoire has someone else doing the dirty work as well.

Yes, the system is broken, but shifting it over to the City of Tacoma is not going to fix it. This is crazy! So who is needing the mental health services?

Apparently, this doggone broken system is so complicated, no one gets it. They think that if we throw money into a different hole that we're going to prevent future Maurice Clemmons' from doing their damage. WRONG! That's a DOC and judicial thing. Not a mental health issue. The forensic responsibility will remain with law enforcement. Can you please clarify this for folks Erik?




by amsierra

on 2/1/2010 @ 3:02pm

I think this issue is too complicated for people to understand. Of course, everyone is on information overload and that is the interest of the politicians who want to move this forward. I'm a mental health professional and asked a few business leaders to pass this information on. I get an email lashing, pointing out that Maurice Clemmons would have benefited from MH services. Apparently, the writer got this from Lauren Walker's statement, who apparently is not well informed about either MH funding or Maurice Clemmons' status.

So the question is: Who is going to get the word out on this issue?

I've written Tacoma City Council members. On to state/county legislators.

Why isn't the TNT writing about this?

by Erik

on 2/16/2010 @ 4:47pm

The WA State "Tax Tacoma Bill" advances:

Wash. House wants to give local gov'ts tax help

Local governments would get more flexibility to collect and use some existing taxes under a bill narrowly endorsed by the state House.

The Associated Press
OLYMPIA, Wash.

Local governments would get more flexibility to collect and use some existing taxes under a bill narrowly endorsed by the state House.

The bill was approved 51-47 and heads to the Senate. It would allow cities to ask voters for a 0.1 percent sales tax for criminal justice, if the county hasn't already raised the previously authorized 0.3 percent.
....

Tacoma could impose a 0.1 percent mental health and drug dependency sales tax...

seattletimes.nwsource.com/html/localnews...